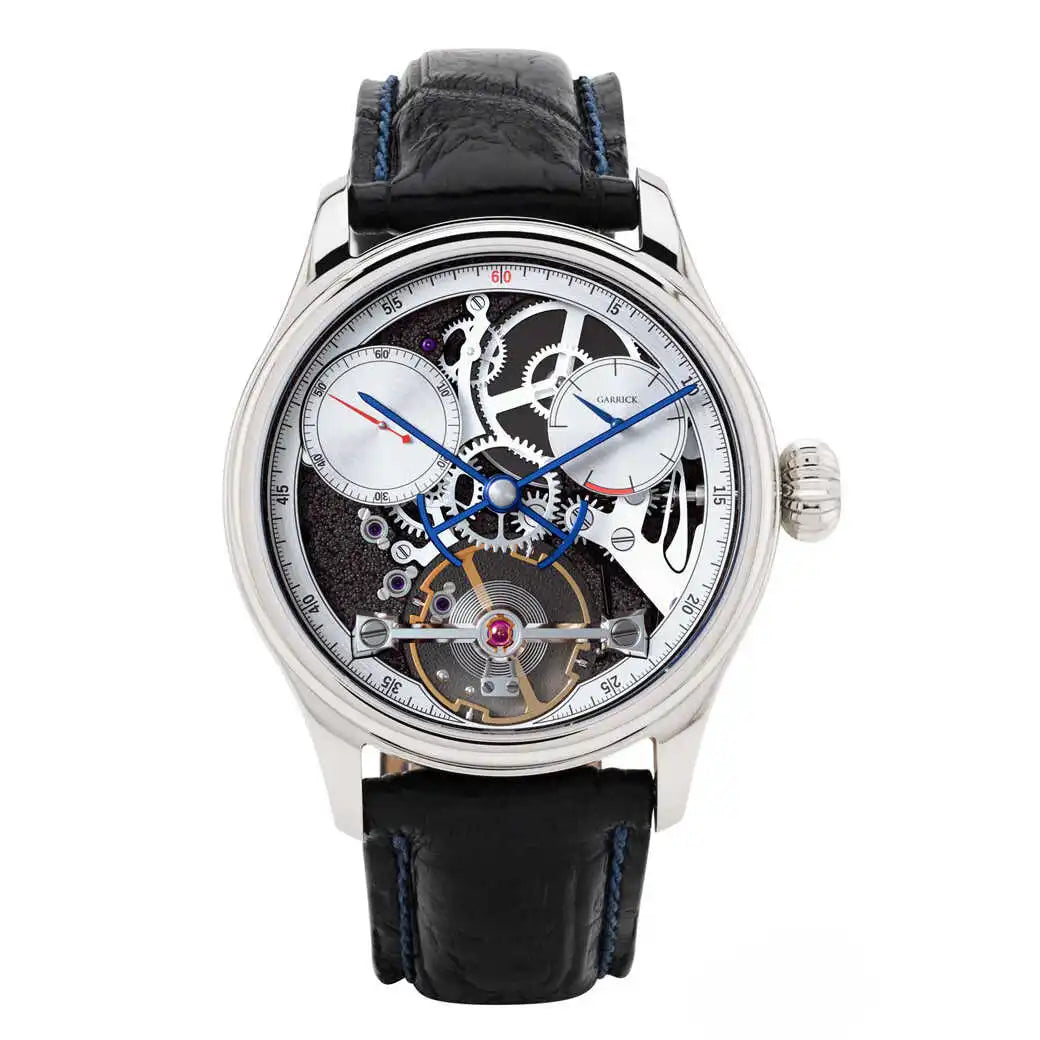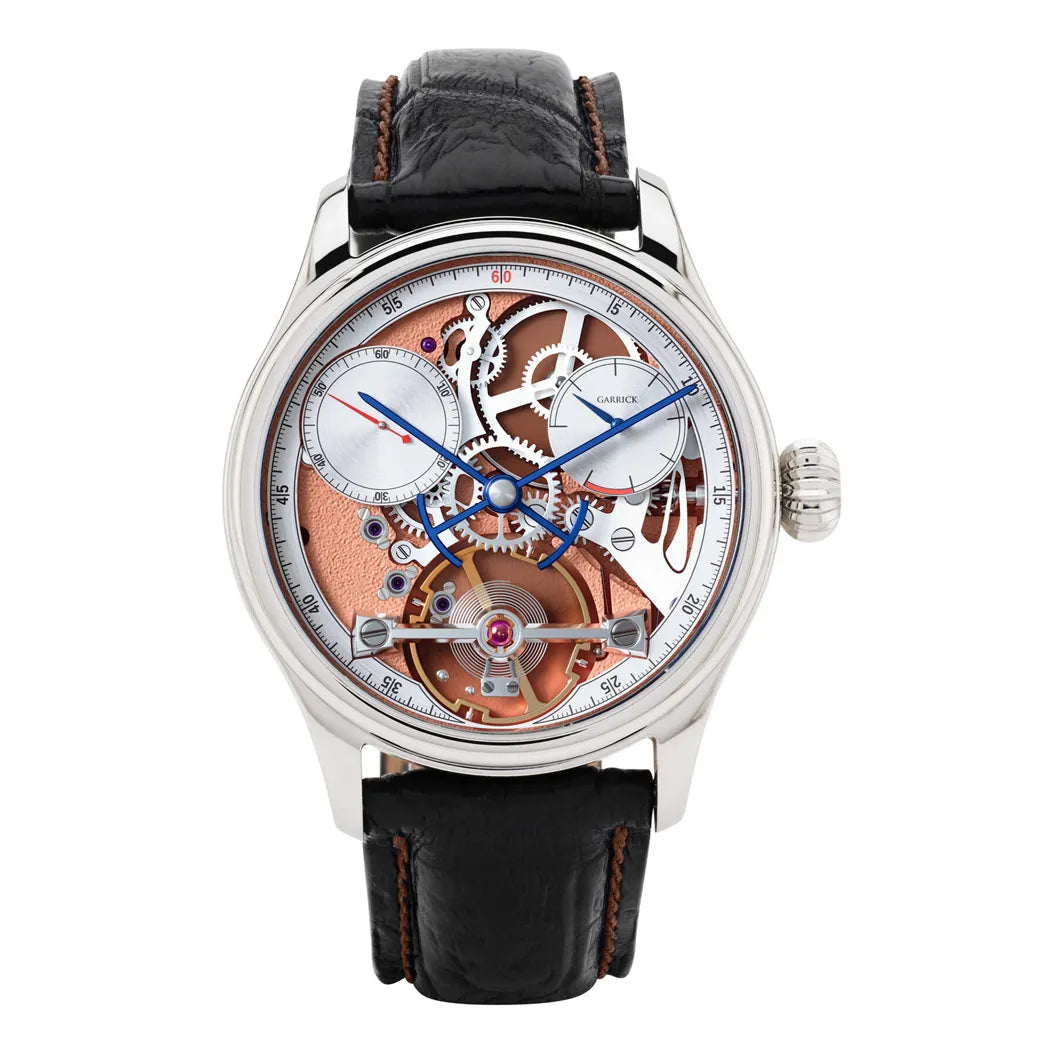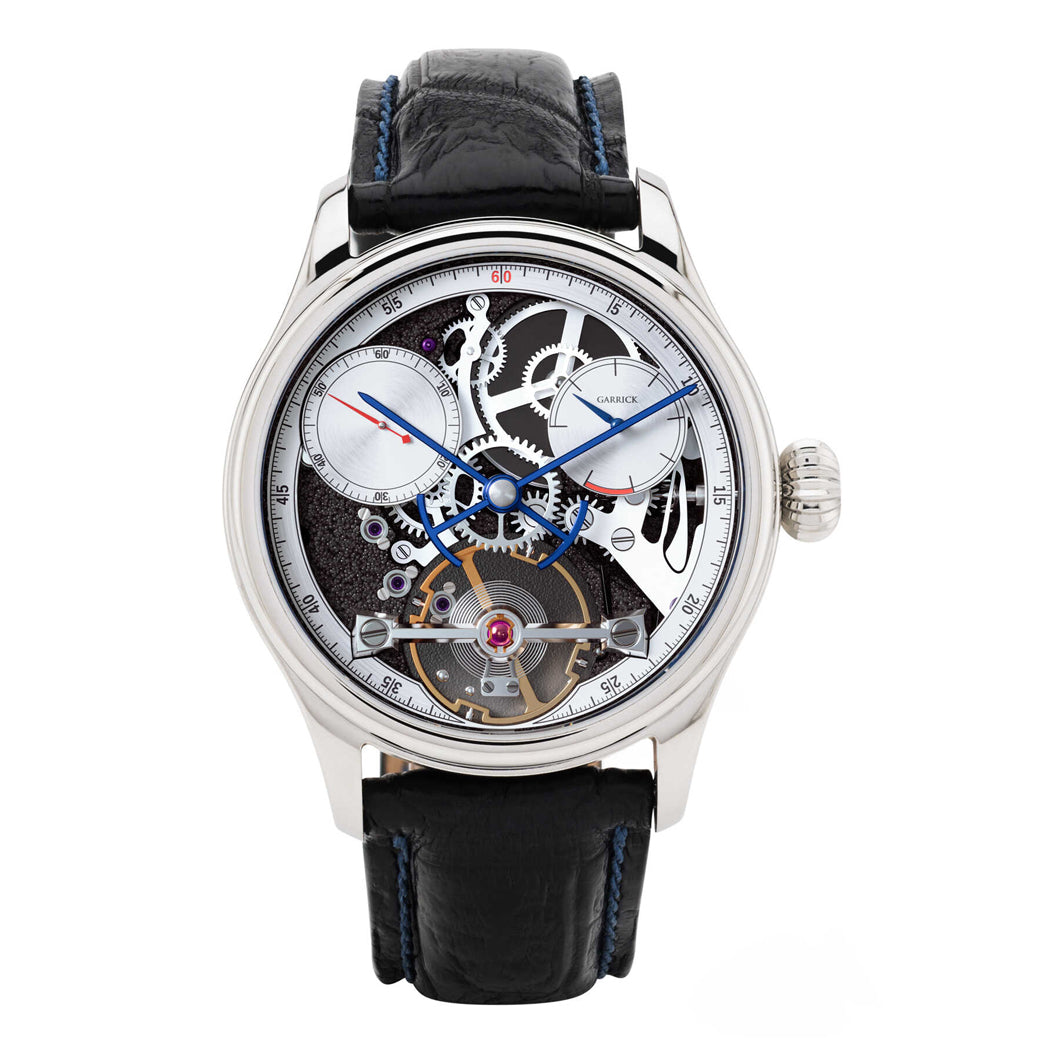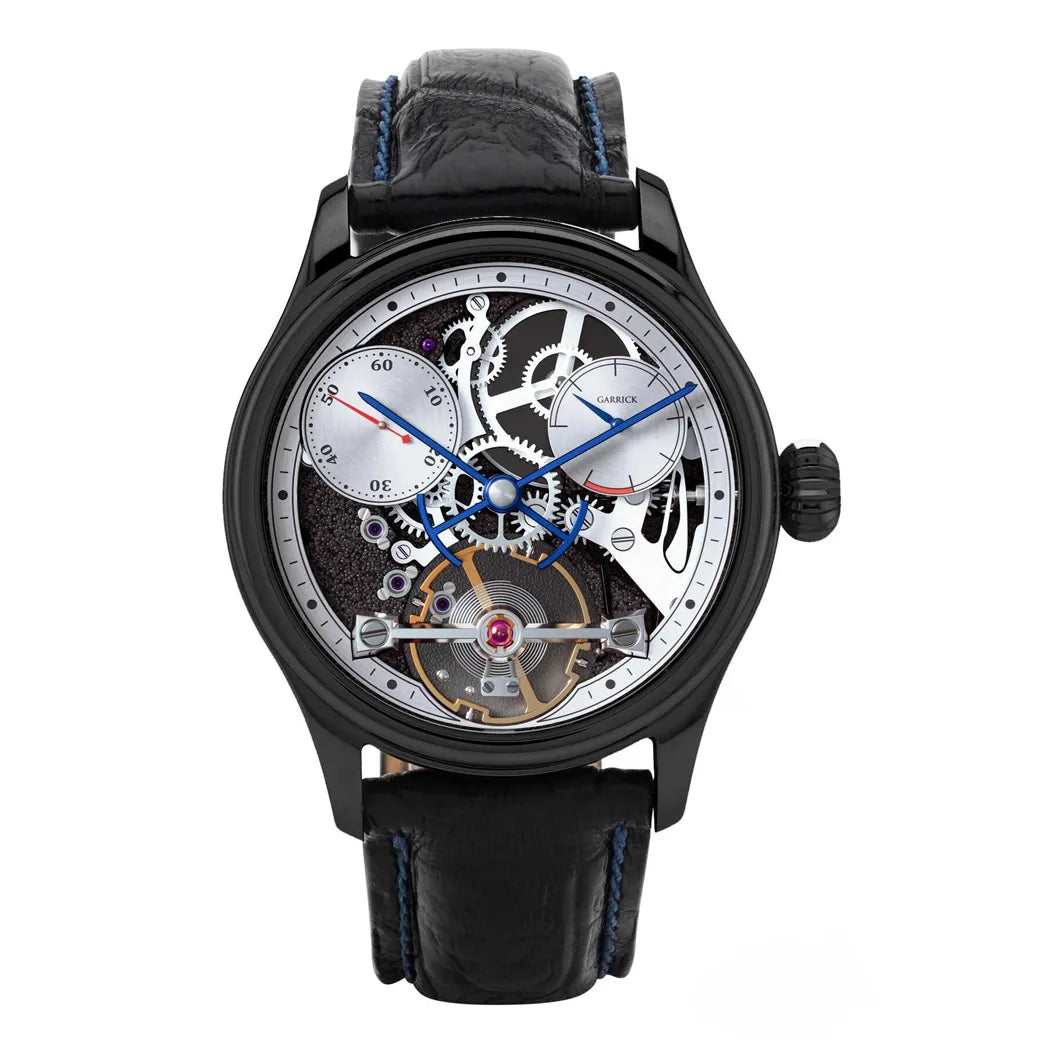 S3 Timepiece
Regular price
£27,495.83
/
---
Garrick is pleased to unveil its latest horological creation, the S3 MK2. This timepiece pairs the Calibre UT-G04 with a high quotient of hand craftsmanship. It represents the pinnacle of Garrick ownership with its black polished surfaces, bevelled edges and handmade hands, all painstakingly crafted in-house.
Currently under development and limited to only 5 pieces per year. Available in steel or gold.
Please note: The first batch for delivery in 2024 is now sold out. We are now taking orders for 2025/26.
Price £27,495 ex VAT and £32,995 inc VAT (UK) Taxes deducted at checkout.
£32,995.00
Following the success of the S1, S2 and original S3 models, Garrick continues its ascent ever upwards into the rarefied world of high horology, releasing its latest timepiece, the Garrick S3 MK2. This new watch showcases the British brand's vast expertise and penchant for hand craftsmanship. The S3 features an openworked dial revealing a myriad of components usually hidden from view. Moreover, the new movement, the UT-GO4 calibre, encompasses chatons and peerless finishing, including time-consuming black polishing.
When Garrick unveiled its S3 model in 2020, it announced to the watch collecting community that the British brand was capable of producing fine watches, rich in technical virtue and hand craftsmanship.
Building on the success of previous models, Garrick has now created the S3 MK2, the company's most technical watch to date.
The original S3 model featured an open-worked dial and heat blued skeletonised chapter ring. The new S3 features a new and improved dial showcasing the textured mainplate and hand-finished parts. These parts sit flush with the upper mainplate surfaces, providing a neater appearance. This specification detail meant Garrick's watchmakers had to revisit each movement component and, in many cases, relocate parts in order to ensure functionality and augment the model's aesthetic allure.
Consistent with previous models, the S3 features Garrick's Maritime hour and minute hands, crafted in-house and heat blued. The outer chapter ring displays the minute markers and a small seconds display and power-reserve indicator complete the inventory of functions.
The balance is positioned front of house, in the lower portion of the dial. A prominent bridge spans the balance wheel and is enriched with straight graining and black polishing. The movement is endowed with a Trinity free-sprung balance made of Sircumet, a non-magnetic alloy exclusive to Garrick. A free-sprung balance enhances isochronism and mitigates positional influence on the rate, surpassing the ubiquitous index-adjusted balance. The timing screws affixed to the balance wheel are set in-board, reducing air turbulence and, by default, augmenting precision.
The gears and a plethora of other components are made in-house using traditional watchmaking machines such as jig borers and lathes. Numerous grey-toned parts are, once again, made of Sircumet and subject to black polishing. This latter type of finish necessitates polishing parts on a tin plate in conjunction with diamantine paste, flattening the surface and delivering a brilliant, mirror-like appearance. The rhodium-plated movement is hand-frosted and features chatons, while the case is offered in stainless steel or 18-carat gold.
The price of this very exclusive timepiece is  £27,495 ex vat (outside the EU) and £32,995 inc vat (inside the EU).

QC
After assembly, each timepiece is regulated and carefully checked with the naked eye as well as under a loupe. Put simply, Garrick has expended much effort putting in place rigorous quality controls. However, it is inevitable that small variations between watches may occur, albeit this is part of the charm of Garrick ownership.
Bespoke options such as finishing and colour changes are free. You can also choose between polished steel and heat-blued anchor or lancine hands. After submitting you're order we will be in touch to discuss and confirm your build details.
You will be charged a deposit today and the remaining balance before delivery.
Expected release date: 180